Extractions at Essential Care Dental
Wisdom Tooth Removal in Graceville
Sometimes the healthiest option for your smile is to have a tooth removed, rather than do everything possible to save it. Dental extractions are common in instances involving emergencies, impacted wisdom teeth or full mouth reconstruction.
During your consultation, we'll help you determine whether it's ideal to preserve your natural tooth or more beneficial to your smile as a whole to have it removed.
Keeping You Comfortable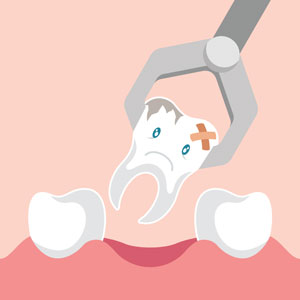 Having a dental extraction can range from a simple and straightforward procedure to a more complex oral surgery, depending on your unique situation. At Essential Care Dental, we arrange appropriate pain relief strategies such as the use of sedation dentistry or lighter inhalation sedation, depending on your comfort level.
Fortunately, local anaesthetics and safe analgesics make tooth removal easier than what most people realise. Thanks to sedation, the majority of our patients don't even remember the procedure (be sure to have someone with you to drive you home).
Wisdom Tooth Removal
The last set of teeth to erupt usually arrive sometime during the teens or 20s. Wisdom teeth can pose concerns when there's inadequate space for them to erupt properly, making them predisposed to periodontal disease, cysts or tooth decay. These third molars also tend to press into adjacent teeth, causing shifting of the bite and potential orthodontic concerns.
Should You Save Your Tooth?
Restoring your natural teeth is always our top priority. However, there are instances where a tooth may be non-restorable, and the best option is to have it removed. You may need a dental extraction if the tooth has experienced the following:
A large fracture or crack
Failing root canal treatment
Severe periodontal (gum) disease
Large areas of decay
…or if you're undergoing full mouth restoration with a new denture or dental implants.
Request a Consultation Today
Find out if you need to have your wisdom teeth extracted or a problematic tooth removed. Contact us today to book your exam and dental X-rays. We'll provide the answers you need.
* Any surgical or invasive procedure carries risks. Before proceeding, you should seek a second opinion from an appropriately qualified health practitioner.
---
Extractions Graceville, Sherwood, Oxley, Chelmer QLD | (07) 3333 2011