Veneers at Essential Care Dental
Custom Graceville Cosmetic Dentistry
Today's modern dental veneers make getting a smile makeover something that's within just about anyone's reach. Veneers applied to the front of your visible teeth can take an everyday smile and turn it into a beautiful accessory.
Imperfections That Veneers Address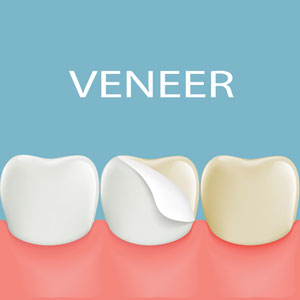 Instead of acting as a restorative procedure where decaying or damaged teeth are repaired, veneers use high-grade porcelain materials to mask the tooth behind them to improve its outward appearance. They're useful for addressing aesthetic concerns such as teeth with:
Gaps
Minor crowding
Discolouration and stains
Atypical shape or length
Chipped or worn edges
The Dental Veneer Process
Every dental veneer case at Essential Care Dental begins with a personal consultation where your concerns and goals are discussed. If you have pictures of smiles that you like (or don't like) feel free to bring them with you to this appointment.
If you qualify for veneers, we'll discuss how many you need and the costs involved. Depending on your smile's shape, you may require as few as 4-6 veneers or as many as 8-10. We'll take a series of X-rays and impressions to map out a wax model that you can preview so that you know exactly what the results will look like before you commit to the next phase of treatment.
After your veneer design and colour have been specified, you'll begin the preparation phase. At this appointment, the teeth getting veneers will be gently reshaped and new impressions taken. Some local anaesthetic will be needed to minimise sensitivity. Temporary veneers will be placed while your permanent ones are being made.
About two weeks later, your hand-designed porcelain veneers will be ready to bond in place. As soon as the bonding agent is set, you'll be able to show off your new look.
Are You a Candidate for Veneers?
Find out if dental veneers or another type of cosmetic procedure can help you achieve the smile you've been looking for. We're open six days a week; contact us today to request your appointment.
* Any surgical or invasive procedure carries risks. Before proceeding, you should seek a second opinion from an appropriately qualified health practitioner.
---
Dental Veneers Graceville, Sherwood, Oxley, Chelmer QLD | (07) 3333 2011