Professional Teeth Whitening at Essential Care Dental
Teeth whitening is an efficient and affordable option for patients at Essential Care Dental considering cosmetic dentistry. Depending on your unique situation, a professional whitening treatment may be all your smile needs to look its best.
Over-the-Counter vs. Professional Treatments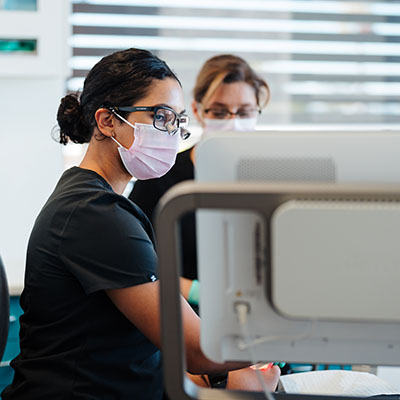 Commercial teeth whitening kits are popular and easily accessible. But the products are made from weaker concentrations for the safety of individuals who might not be under the care of a dentist. Application methods like strips or trays can also result in uneven or patchy-looking results.
With a professional grade whitening system, our patients can access the most effective products for faster and more dramatic results. Plus, it's easy to maintain over time (making it just as cost effective, if not more so).
Types of Teeth Whitening
The type of professional whitening method you select will depend on your timeline, budget and how deep your tooth staining is. For people with more tenacious discolouration or working on a short time frame, an in-house application is usually best. If you're not in any rush to get things done, the convenience of a take-home system offers more flexibility.
Take-Home Trays — We'll take an impression of your teeth to create a set of fitted whitening trays (similar to a retainer or Invisalign®). Place a small amount of product in each tooth reservoir and wear the trays for an hour or two per day. You'll see visible results within the first week and full results after about 2-3 weeks. Keep your trays and pick up refill kits to boost your results as needed (after a scale and clean is best).
Same-Day Whitening (ZOOM!®) — This 90-minute appointment features whitening product that's applied directly to your teeth by our dentist and then activated with a special light. You'll enjoy quicker results without the need to keep up with trays on your own (but we can still fit you with a set, to help you keep your smile white for years to come).
Is Whitening Right for You?
If you're considering teeth whitening, it's important to make sure that your gums and teeth are healthy. Contact us today to request a consultation.
CONTACT US
---
Children's Dentist Graceville, Sherwood, Oxley, Chelmer QLD | (07) 3333 2011