Dental Implants at Essential Care Dental
Smile Solutions for Graceville
Having missing teeth used to mean getting dentures or removable partials to fill in the space left behind. Today, our dental implants provide a permanent and fixed alternative to conventional dental prosthetics.
What Are Dental Implants?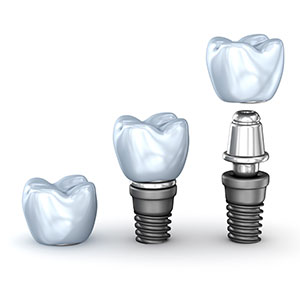 An implant is a biocompatible restoration that sets within the jaw, similar to a natural tooth root. As the bone integrates into the surface of the implant, it becomes a permanent part of the smile.
Implants are extremely predictable and stable, which allows us to affix individual crowns or multi-tooth restorations such as bridges or hybrid denture designs on top of them. A pair of implants can even be used to stabilise removable overdentures, eliminating the need for adhesives or messy pastes.
Dental Implant Advantages
Support bone and soft tissue structures, minimising the aging appearance caused by missing teeth
Easy to clean and care for (brush and floss as if it were a natural tooth)
Eat anything you like; implants are incredibly durable
Replace as few or many teeth as necessary
Extremely high success rate
Ability to last a lifetime.
Candidacy for Dental Implant Treatment
Before starting any implant therapy, we will need to ensure that your mouth is healthy and there is adequate bone to support your new restorations.
If you've gone an extensive length of time with missing teeth or have been treated for periodontal disease, you may need to have a bone graft to ensure there's enough support for an implant in that area. Other pertinent medical conditions will also need to be discussed, such as medications, cardiovascular concerns and tobacco use.
What to Expect
Getting dental implants can require several visits to Essential Care Dental over the course of a 3-6 month time span. This time investment allows for proper healing and integration with the body, ensuring the stable results that you need.
Find Out More
Are implants right for you? How many do you need? Contact us today to get answers to all of your questions by requesting a no-pressure consultation.
* Any surgical or invasive procedure carries risks. Before proceeding, you should seek a second opinion from an appropriately qualified health practitioner.
---
Dental Implants Graceville, Sherwood,Oxley, Chelmer QLD | (07) 3333 2011