Dental Checkups at Essential Care Dental
Preventative Graceville Dentistry
Our mouths play a vital role when it comes to the health of our overall body. Teeth are an integral part of our diet and speech, while gum health is closely linked to underlying medical conditions. The healthier a smile is, the more likely our bodies are to follow.
Preventing Dental Diseases Before They Start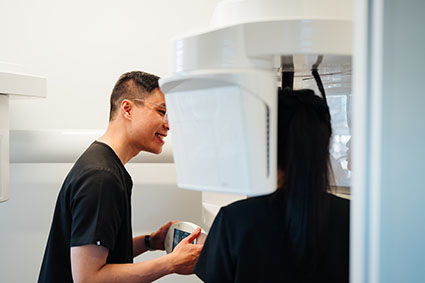 Preventative dentistry typically includes regular checkups to screen for oral diseases (earlier diagnosis allows for less-invasive treatment) such as tooth decay, periodontitis and oral cancer. As most dental problems are reversible in their earliest stages, regular dental checkups are an essential part of a prevention-focused oral health strategy.
During your cleaning appointments, we'll share ways to modify your oral hygiene routine to pinpoint specific concerns such as gingivitis or enamel demineralisation. Understanding your unique situation and dental anatomy allows you to incorporate the best practices for given individual circumstances.
Diagnostic X-rays
Today's digital dental X-rays are an efficient and highly useful tool to safely screen for problems like cavities, bone loss, cysts, abscessed teeth and orthodontic concerns. Because they allow our dentist to see things that aren't visible during a clinical exam, intermittent X-rays are a standard of care when it comes to providing minimally invasive dentistry.
Reducing Your Risk of Gum Disease
Periodontal (gum) disease is a common oral infection that's closely linked with underlying health conditions such as:
Stroke
Diabetes
Heart attack
It develops as a result of plaque accumulation along the gumlines and triggers tissue detachment around the affected teeth. As a result, gum and bone loss begin to occur.
Regular preventative cleanings help to reduce the risk of gum disease, through cleaning hard-to-reach areas and screening for changes in tissue before symptoms are evident. Watch for signs of infection such as bleeding, swollen gingiva, bad breath or gum recession.
Schedule a Check and Clean Every Six Months
Most healthy patients need to have a scale and clean at least twice per year. Contact us today to reserve your appointment. We're open Saturdays.
---
Dental Checkups Graceville, Sherwood, Oxley, Chelmer QLD | (07) 3333 2011