Emergency Dental Care at Essential Care Dental
A throbbing toothache or chipped tooth can leave you scrambling for fast pain relief and on the lookout for an emergency dentist who can see you the same day. Knowing what to do first can help you to save your smile and minimise both the time and costs involved in repairing your tooth.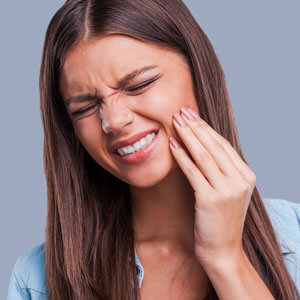 When Should You Call a Dentist?
If you're in too much pain to go to work or school
The broken tooth is visible, causing aesthetic concerns
There is swelling or bleeding
You're unable to eat
A tooth is chipped or completely knocked out
Common Dental Emergencies
Here are some of the most frequent types of dental emergencies that we see at Essential Care Dental and what you should do if they've happened to you:
Dental Abscess — A small pimple on the gums next to a tooth is called a fistula. This area of swelling and drainage is due to an infection inside of the root of the tooth; it may be completely asymptomatic or relatively painful. Take an over-the-counter anti-inflammatory medication such as ibuprofen and arrange to have an exam at your earliest convenience. A root canal will be necessary before the infection spreads into adjacent structures.
Chipped or Knocked-Out Tooth — Early action is the most crucial step in treating broken or avulsed teeth. First, apply a compress to the area to minimise any bleeding. Second, locate the missing tooth or fragment and store it in a container, submerged in milk or contact solution (tap water will work if there is nothing else available). Third, see an emergency dentist within the hour to reinsert the tooth or bond the fragment back into place.
Broken Filling or Crown — If you feel a sizeable rough area or a loose restoration, avoid chewing on that side of your mouth, as it could cause your tooth to break apart even more. Arrange to see our emergency dentist the same day if possible. Should your crown come out completely, store it in a zip-top bag and bring it with you.
Swelling — Facial swelling can be indicative of a severe dental infection. If not treated quickly, it could lead to medical emergencies that require hospitalisation. Contact our office immediately or head to the nearest emergency room if the swelling is severe.
In Pain? Contact Us Straightaway!
Contact us to request your same-day emergency dental appointment now. We're open six days a week.
* Any surgical or invasive procedure carries risks. Before proceeding, you should seek a second opinion from an appropriately qualified health practitioner.
---
Emergency Dentist Graceville, Sherwood, Oxley, Chelmer QLD | (07) 3333 2011