Invisalign Clear Aligners in Graceville
Straighten Your Smile At Essential Care Dental
Have you always wanted a straighter smile?
With Invisalign® clear aligners, you can achieve the smile of your dreams. At Essential Care Dental, we're proud to offer the solution you've been looking for.
Invisalign aligners are a proven and convenient way to straighten your teeth without having to wear fixed appliances like brackets and wires. Their clear design allows for a subtle alternative to conventional orthodontics, making them especially attractive for our adult patients.
Book your Free 30 Minute Consultation today!
Includes: photos, exam, oral scan, simulation & treatment plan
Call (07) 3333 2011 to get started.
*Mention This Offer When Scheduling Your Free Consultation! Your Dream Smile is Waiting.*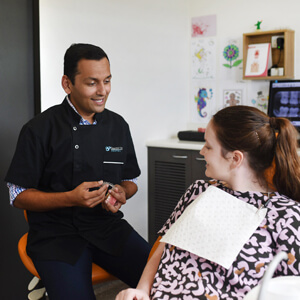 The Benefits of Invisalign Clear Aligners
Eat anything you want. Just remove your aligners during meals and clean your teeth before putting them back in
No tedious appliances to clean around – brush and floss as usual
Shorter dental appointments, because there are no wires to adjust
A clear design that makes your treatment nearly invisible
Predictable results that are great for adults and teens
BPA-free plastic is non-toxic and easy to clean
Take That First Step – Enhance Your Smile Now! Call (07) 3333 2011 to book your free consultation today.

How Does Invisalign Work?
Invisalign uses digital mapping to guide your teeth into proper alignment with a series of interchangeable and removable trays. Each set of clear aligners is worn for a minimum of 22 hours per day. Two weeks later, the trays are replaced with the next set in the series.
Since we send you home with several trays at a time, you're able to progress your tooth movement on your own. We'll see you for brief follow-ups every six weeks to ensure everything is responding correctly. Most of our patients complete their Invisalign treatment in about 12 months. We'll be able to provide you with an individual estimate at the time of your initial exam and X-ray.
Having crooked teeth can be embarrassing, but they're also a risk to your oral health. Investing in orthodontic therapy like Invisalign can significantly lower your risk of common dental problems like cavities, worn teeth and gum disease.

Your Dream Smile is Waiting.
Call (07) 3333 2011 To Get Started!

Discover Expert Dentistry At Accessible Prices
At Essential Care Dental go above and beyond to ensure our reputable dental services are available to everyone. We're a provider for HCF, CBHS and NIB. All health funds are accepted, and funds and rebates can be claimed on-site with our HICAPS machine.


Invisalign Graceville, Sherwood, Oxley, Chelmer QLD
* Any surgical or invasive procedure carries risks. Before proceeding, you should seek a second opinion from an appropriately qualified health practitioner.